Water has always played an important part in the history of the community of Winchester. Come to the home of the largest man-made reservoir in Southern California. The Diamond Valley Lake is located south of Winchester on Highway 79 in the Domenigoni Valley.The reservoir is completed and being filled with water. The project includes a 4,500 acre lake which will be linked to Lake Skinner by open space corridors, for a total of 22,000 acres of recreation and open space. The lake will be two miles wide by five miles in length and 250 to 270-feet deep. The reservoir will be the largest body of fresh water in Southern California and will attract many visitors from all over the country.

Recreational areas on both sides of the reservoir will provide major areas for picnics, camping, recreational vehicles, swimming, special event meadows, bicycling, fishing, horseback riding, hiking, golfing, model airplane flying, and a host of other uses. To watch this project come visit the overlook off Highway 79 on Construction Road. Recreation areas are still under construction. The marina on the East end provides for fisherman to launch their boats upon the lake.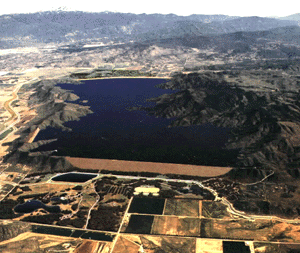 This area was once used extensively for farming and small homesteads. Among the crops were oats, wheat, hay and potatoes. It was first settled by Indians and later by families such as the Domenigoni's. Garbonis, Searls, and Baatz. From about 1880 until well into the late 1990's these and others worked the soil and land making a living from the land.

The Diamond Valley Lake looking east from Winchester Road.



Home of Diamond Valley Lake


Click on button at left to see more on the construction of Diamond Lake


Click on button at left to see Metropolitan Water Districts site about Diamond Valley Lake


Click on button at left to return to index


Click on the button to the left to see pictures of the dedication of the lake in March 2000